Relax, Rejuvenate & Reconnect...
Harvest Trail And Farm Gates - Self Drive Map Guide
As you explore the country lanes you will come upon a diverse selection of farm gate produce stalls.

Our Harvest Trail Map lists some of the many fruit, vegetable and flower stalls within walking distance or a short self drive from your luxury Tamborine Mountain accommodation at Witches Falls Cottages.

Whilst there are many Farm Gate Stalls dotted across the Mountain – we list here some of our favorites.

You may wish to take home a selection of fresh flowers, fruits or vegetables or use some of the produce to prepare a fresh, tasty salad or compliment your BBQ to enjoy in your private courtyard garden here at Witches Falls Cottages.
The Map Guide below has been created as an interactive map that you can have fun with by selecting different items of interest
--- just try clicking on any point of interest on the map - you might be surprised! ---

If you would like to view a non interactive version or to print out the map below as a PDF, please CLICK HERE.

Google Maps and Directions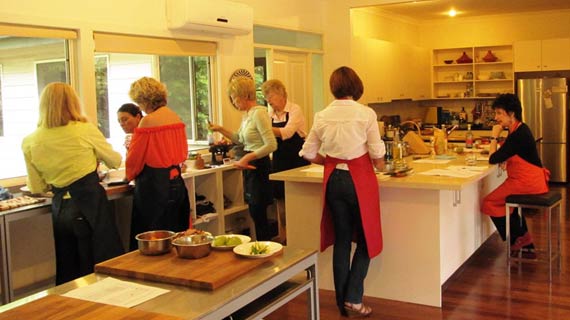 Staying at your Witches Falls Cottages or Amore B&B Tamborine Mountain accommodation? You will find them both listed on the Harvest Trail Map (see the red dots) - and your hosts will be more than happy to assist with directions.
Coming up to Tamborine Mountain for a day trip please use the Google Map for our Harvest Trail. You can get directions to all of the farm gate stalls listed on the Map from your current or any other location.
Small Avocado Stall - 232 MacDonnell Road
This popular roadside stall is on the right between Short Street and Paradise Drive is the first stop referred to on your Harvest Trail Map. Feast your eyes on the most delicious avocados and linger to enjoy the picturesque views over the Gold Coast Hinterland.
Tamborine Mountain is one of the main avocado growing areas in Queensland. Many different varieties are grown, but most of the industry is made up of Hass, Sharwil, Wurtz, Reed and Shepard.
It is estimated that about 70% of avocados produced are sold through supermarkets. Only a small tonnage of fruit is exported overseas.
Avocado of the Haas variety at Witches Falls Cottages
Avocado Tree at Witches Falls Cottages
Avocado of the Fuerte variety at Witches Falls Cottages
We are indeed lucky to have a variety of farm gate stalls stocked in season with fresh avos.
The most popular varieties are:
Haas – Appearance: Distinctive pebbly skin and more oval shape than other varieties. Sometimes referred to as the 'black sheep of the family', the Hass turns a rich purple when ripe and ready to eat.
Shepard – Appearance: Smooth, green skin with a golden buttery flesh. This variety has the unique distinction of being the only Avocado that doesn't turn brown when cut. They are often referred to as 'greenskins'.
Reed – Appearance: A medium skin texture with pale flesh and a distinct round shape. This variety is well known for remaining green even when fully ripened.
With its fertile red volcanic soil and high rainfall, Tamborine Mountain produces rich crops of avocados, kiwifruit, passionfruit and rhubarb since dairy farming tailed off in the 1950's.

Like many properties on the Mountain here at Witches Falls Cottages we have a few fruit producing Avocado Trees of the Haas and Fuerte variety (pictures above show the Haas variety first and the Fuerte variety second). And when in season you get to enjoy our own avo's in your yummy, tasty breakfast hamper.

At Witches Falls Cottages you can enjoy the personal service of a Bed & Breakfast combined with the privacy of your own cottage and we do deliver your choice of breakfast hamper with our fresh homemade bread to your cottage each morning (with love).
The Farm Stall - 210 MacDonnell Road
Stock up on wholesome and affordable, fresh local produce at this colourful, rustic stall on the Tamborine Mountain Harvest Trail.
Ripe, juicy fruit and flavorsome vegetables abound at this well-loved organic farm stall. Great value to be had! If you are heading back to the M1 you will pass it on your travels.
Load your Veggie basket with goodies, there is always a interesting variety to choose from, always fresh, good quality and value for money.
Now that you are all stocked up how about preparing a hearty vegetable soup or one of the all time favorites – Avocado and Chicken Caesar Salad.

Ingredients
1/2 barbecue chicken, skin and bones removed, coarsely shredded
1 x 290g pkt complete caesar salad mix
1 avocado, peeled, seeded, thinly sliced

Method
• Place the chicken, salad leaves, parmesan, bacon bits and half the croutons in a large bowl. Drizzle with salad dressing and gently toss to combine.
• Divide the salad evenly among serving bowls and top with avocado slices and remaining croutons. Serve immediately.
Vanessa's Tomato, Avo and Rhubarb Stop - 51 Main Western Road
Staying at Witches Falls Cottages you go past Vanessa's stall on your way to North Tamborine Village.
There is a foot path and it is a short walk of about 10 minutes. Coming from the direction of your cottage you will find Vanessa's Tomato, Avo and Rhubarb Stop on the left hand side of the road after Witches Falls Winery.
Vanessa is a former Beaudesert Shire deputy mayor and is a passionate animal lover. Vanessa was awarded a Medal of the Order of Australia (OAM) for her service to the community and many of us think that the award recognizes her passion for fresh produce, fair farming practices and her tireless dedication to community projects.
The rich volcanic soils and good rainfall ensure early and sustained growth of fruit, flowers and vegetables.This quaint country stall is best known for its plump and tasty vine-ripened tomatoes.
Vanessa's avocados and rhubarb are also irresistible.
Rhubarb is grown primarily for its fleshy stalks, technically known as petioles.
The use of rhubarb stems as food is a relatively recent innovation. This usage was first recorded in 17th-century England after affordable sugar became available to common people, and reached a peak between the 20th century's two world wars.
Commonly, it is stewed with sugar or used in pies and desserts, but it can also be put into savory dishes or pickled. Rhubarb can be dehydrated and infused with fruit juice.
Rhubarb has a great colour and tartness that makes it an ideal accompaniment to sweet dishes such as crumbles, tarts, cakes and pies.
Recipes abound, how about Rhubarb Crumble, Rhubarb and Rosemary Sorbet, Rhubarb Jam, Rhubarb and Custard Danish Pastries, Rhubarb and Raspberry Gratin and what about Rhubarb with a Baked Rice Pudding.
Click on the Video below and watch Terri Taylor from the Tamborine Cooking School prepare her famous Rhubarb Crumble.
Dhalia Stall - 7 Hartley Road
Located next to Witches Falls Cottages, the Dhalia Stall features the best selection of dhalia on the mountain. You may want to visit the stall after your stay on beautiful Tamborine Mountain and take home a bunch of flowers for yourself or a loved one.
Dhalias flower from Christmas until May; however a range of gorgeous flowers is available all year-round. Also avos and seasonal fruits.
These passionate gardeners often open their garden to the public for the "Springtime on the Mountain" Festival.
For dramatic spreads of colour in summer and autumn dahlias are hard to beat. Named after the Swedish botanist, Dr Anders Dahl, they're in the family Asteraceae, which is part of the daisy family. These wonderful flowers originated in the mountain ranges of Mexico, Guatemala and Columbia, before becoming popular throughout the world.
There are hundreds, if not thousands, of different cultivars and hybrids of dahlias. There are about 30 species of Dahlia. This tuberous-rooted perennial plant is characterised by the different flower types. Dahlias come in many lovely shades including one that's nearly black, and there are bi-colour ones as well.
Dahlias are brilliant garden plants. They are long flowering, with lush foliage, easy to flower and care for and come in a huge array of colours shapes and sizes.
Dahlias tubers take around 8 weeks from planting to flowering.
The Dahlia tuber needs a sunny spot and moist, humus rich, well drained soil. Number 7 Hartley Road obviously ticks all of the boxes so far as Dahlias are concerned.
Dahlia flowers are excellent for cutting, and last well in a vase.
Bernie's Fruit Stall - 23 Hartley Road
A food lover's heaven, Bernie's Fruit Store specialises in rhubarb and garlic but also stocks fresh seasonal produce including pumpkin, avocados, zucchini, ginger and cucumber and occasionally there are rhubarb plants available for sale.
From your Tamborine Mountain accommodation at Witches Falls Cottages you can easily walk to Bernie's Fruit Stall which is only 240 meters along Hartley Road.

Walking along the foothpath on Hartley Road you will see the Fruit Stall on your right, just before you reach the entrance to Mason Wines on your left. Further along Hartley Road you will find Cedar Creek Estate Vineyard & Winery which is also home to the Queensland Wine Centre and the famous Glow Worm Caves.
In everyday usage, a vegetable is any part of a plant that is consumed by humans as food as part of a savory meal. The term "vegetable" normally excludes other food derived from plants such as fruits, nuts and cereal grains, but includes seeds such as pulses and is an integral part of the human food chain.
Vegetables were collected from the wild by hunter-gatherers and entered cultivation in several parts of the world, probably during the period 10,000 BC to 7,000 BC, when a new agricultural way of life developed. At first, plants which grew locally would have been cultivated. Nowadays, most vegetables are grown all over the world as climate permits. China is the largest producer of vegetables, and global trade in agricultural products allows consumers to purchase vegetables grown in faraway countries.
On Tamborine Mountain vegetable growing as you would expect is on a small farm production basis – tender hands and utmost care.
Vegetables can be eaten either raw or cooked and play an important role in human nutrition, being mostly low in fat and carbohydrates, but high in vitamins, minerals and fiber. Not preaching but vegetables are really good for you!
Everything at Bernie's is a bargain... all items are just $2.50!
Les's Veggie Store - 427 Long Road
Farmer Les sells a little bit of everything. Take home a pumpkin for a hearty soup or fill a bag with juicy citrus fruits when in season. If Les is restocking his stall when you stop get ready for a chat. Les is proud of his farm and has a wealth of knowledge.
Pick up some Ginger, Pumpkin & Lime from Les's Veggie Store and prepare a Ginger & Pumpkin soup:

Try this tasty winter warmer recipe for a Thai-style Ginger &Pumpkin Soup with chilli, fresh herbs and lime, served with homemade roti bread.

Ingredients
1 large shallot (about 50g), peeled, cut in half
1 long red chilli (about 10g), cut in half
8cm-piece fresh ginger (about 30g), peeled, coarsely chopped
3 cloves garlic, peeled
2 limes, zest and juice separated
1/2 punnet fresh coriander (about 8g), leaves and stems separated
1 tablespoon canola oil
3 medium carrots, peeled, sliced
900g Kent pumpkin, peeled, seeded, cut into 3cm pieces
5 cups chicken stock or water
400ml can coconut milk
Roti to serve

Method
Step 1
In a food processor, blend the shallot, chilli, ginger, garlic, lime zest and coriander stems to form a paste-like mixture.

Step 2
Heat a medium heavy pot over medium-high heat. Add the oil and paste and cook for 2 mins or until mixture is fragrant. Add the carrots, pumpkin, stock and all but 2 tablespoons of the coconut milk. Cover and bring to a simmer. Cook for 20 mins or until vegetables are tender.

Step 3
Using a blender, and working in batches, puree the soup with 2 tablespoons of lime juice until smooth and creamy. Season with salt. Ladle soup into bowls and garnish with remaining coconut milk and coriander leaves. Serve with the roti.
Elizabeth's Flower Stall - 260 Main Western Road
Cottage-style flowers, plants and quaint posies are available most of the year. Whatever you choose will be a beautiful and sweet-smelling reminder of your time on the mountain.
Many flowers have important symbolic meanings in Western culture. The practice of assigning meanings to flowers is known as floriography.
Some of the more common examples include:
• Red roses are given as a symbol of love, beauty, and passion.
• Poppies are a symbol of consolation in time of death. In the United Kingdom, New Zealand, Australia and Canada, red poppies are worn to commemorate soldiers who have died in times of war.
• Irises/Lily are used as a symbol referring to "resurrection/life".
• Daisies are a symbol of innocence.
The great variety of delicate and beautiful flowers has inspired the works of numerous poets, especially from the 18th-19th century Romantic era.
Famous examples include William Wordsworth's 'I Wandered Lonely as a Cloud' and William Blake's 'Ah! Sun-Flower'.
Because of their varied and colorful appearance, flowers have long been a favorite subject of visual artists as well. Some of the most celebrated paintings from well-known painters are of flowers, such as Van Gogh's sunflowers series or Monet's water lilies.
Flowers are also dried, freeze dried and pressed in order to create permanent, three-dimensional pieces of flower art.
The Roman goddess of flowers, gardens, and the season of Spring is Flora.
Green Shed - Tamborine Mt Showgrounds on Main Western Road
A collective of local farmers, the Green Shed is open at every Sunday from 7.00am to 12 noon and features an extensive range of freshly-picked produce. Everything you see was lovingly grown and harvested on Tamborine Mountain.
The "Green Shed", located at The Showground, 386-398 Main Western Rd, Mount Tamborine, Queensland, is the local market for fresh fruit & vegetables.
Flowers, honey, nuts, herbs and plants are also in bountiful supply. A wide variety of high quality, freshly picked produce, is always available. The range available, depends on the season.
Prices are set at a level which provide farmers a return sufficient to encourage them to continue their farming activities and provide exceptional value to their customers.
Tamborine Mountain provides an enormous variety of agricultural produce: avocados, asparagus, asian greens, beans, beets, broccoli, carrots, cabbage, cauliflower and we haven't even got past the C vegetables! There are many large orchards, but much of the production comes from boutique farming operations.
Agricultural activities are synonymous with the green, lush, vibrant character that typifies Tamborine Mountain and the green shed provides local and visitors alike with the opportunity to purchase a variety of fresh produce.
Mont View Farm Produce Stall - Golf Course Road, adjacent to Guanaba Park
Enjoy quality organic fruit and vegetables. Just about every variety of vegetable imaginable is available here. As fresh as fresh can be with some produce grown only a short distance from the stall itself.
Vegetables in season – pumpkins, spinach, beetroot, avocados, rhubarb and the list goes on. Fill a bag with fresh, healthy and delicious green leafy vegies. Flowers, plants or quality organic fruit are plentiful.
The farmers are passionate about their produce and are always willing to pass on their knowledge.
Glen knows his product and the farmers who supply the stall are locals who have pride in the fruit and vegetables that they grow. That's Glen in the photo holding the carrots.
Farming is part of their DNA and it shows . Ask and learn — you will be amazed as to how knowable these guys are.
At Witches Falls Cottages we have our own veggie patch and herb garden which supplies some of the produce that we use and our guests are encouraged to have a look around and pick your own.

In your cottage you will find the map and information guide to our Harvest Trail to visit the many produce stalls located throughout the Tamborine Mountain area.

Chat with a farmer, pick up some sweet-smelling flowers or load your Veggie basket with goodies – the Harvest Trail Map will show you that there are so many surprises to be savored.
Stay at Amore B&B - great accommodation in central location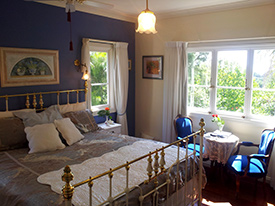 Amore B&B in Long Road, Gallery Walk is at a perfect location for you to explore the Harvest Trail and all the other attractions on Tamborine Mountain.
Amore B&B offers a traditional bed & breakfast experience with 4 intimate and elegant rooms.
Please contact Kay & John at Amore B&B on 07 5545 2330 or visit the website if you would like any further information.
Stay at Witches Falls Cottages to relax, rejuvenate & reconnect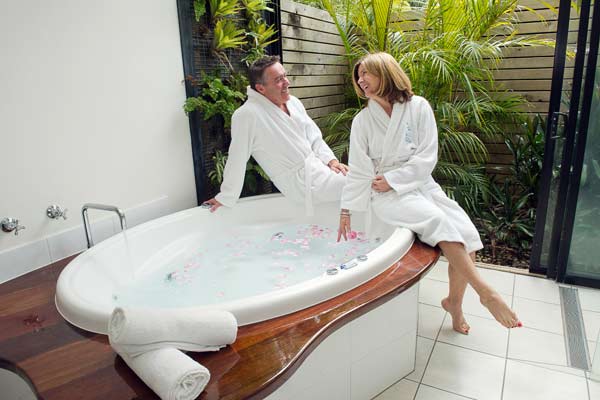 You can walk to three of the Fruit & Veggie Stalls listed on our Harvest Trail Map which makes Witches Falls Cottages your ideal Tamborine Mountain accommodation option to explore this beautiful region.
At Witches Falls Cottages we offer private accommodation for couples. Each of our cottages has a big double spa in the bathroom with that special outdoor feel created by a glass roof and glass sliding doors, a fireplace (seasonal) and a private outdoor area with a covered BBQ. We deliver your choice of Breakfast Hamper to your cottage each morning.
Please contact Witches Falls Cottages Team on 07 5545 4411 or visit our accommodation choices page if you would like any further information.