Relax, Rejuvenate & Reconnect...
Unlock The Talent And Have Fun - Map Guide
Your ultimate guide to Workshops and Courses on Tamborine Mountain, Gold Coast Hinterland
Tamborine Mountain is home to many creative and artistic people who love nothing more than to share their skill and passion. The talented people listed on the Map Guide below run regular workshops and all are happy to organize a special class for you and your friends.

Stay on the mountain for a day or two or as we are just an hour from Brisbane and 45 minutes from the Gold Coast, it could also be a fun day out for a car full of friends.
There are courses and workshops for everyone, young and old alike. Why not combine a relaxing stay at Witches Falls Cottages on beautiful Tamborine Mountain with a fun and interesting course or workshop that can help you to improve your skills or to add another skill to your growing list of talents.

Maybe it could even be an item on your Bucket List that you could tick off? There are many and varied hands-on courses / workshops for beginners, hobbyists, through to the advanced.

Here are just a few -- Art / Colouring-in, Ceramics, Cheese Making, Cooking Classes, Life Drawing, Mediaeval drawing & painting techniques, Photography, Print Etching, Textiles / Rug Making.......

Challenge yourself or just have fun doing and learning! If you do a cooking course with Terri Taylor you even get to eat your homework. How good is that!

If you do not see a preferred course or workshop listed please just give us a call on +61 7 5545 4411 or email us at chiefwizard@witchesfallscottages.com.au and we will assist.

Experience Tamborine Mountain Workshops & Courses -- Additional workshops are being created regularly to help you EXPERIENCE all that Tamborine Mountain and its region has to offer. Basing your self at Witches Falls Cottages you can attend a variety of workshops on the mountain or in close proximity. Workshops are conducted all year round and cover a variety of 'talents'.

Pop across to Experience Tamborine Mountain and check them all out. Feel free to bookmark the page and return whenever you need to.

The Map Guide below has been created as an interactive map that you can have fun with by selecting different items of interest
--- just try clicking on any point of interest - you might be surprised! ---

If you would like to view a non interactive version or to print out the map below as a PDF, please CLICK HERE.

Tamborine Cooking School
Call: +61 7 5545 4546
Mobile: 0421 087 901
Imagine learning to cook in a colonial style house set amongst two acres of show gardens with majestic views over the Scenic Rim.
Join professional chef Terri Taylor for a cookery class, and enjoy a leisurely lunch to taste the delights you helped prepare.
The Tamborine Cooking School offers a great variety of cooking classes including Asian, Australian, Best of Tamborine Mountain, French, Italian, Moroccan, Greek and Spanish. With so many different cuisines covered you are spoiled for choice and sure to find a cooking class to match your taste.
Terri Taylor at the Tamborine Cooking School is a strong supporter of the Scenic Rim Eat Local Week which celebrates the food, farmers and natural beauty of the Scenic Rim.
Experience the food and wine of this fertile region, which produces a bounty of fruit and vegetables, wines, milk and gourmet products such as olives, cheeses, jams and relishes.
Eat Local Week asks visitors and Scenic Rim locals to consider their food and wine choices and recognise the vast array of products available on their doorstep. This festival of food and farming runs during the first week of the Queensland June-July school holidays at various locations around the Scenic Rim region, which is just one hour's drive from Brisbane and the Gold Coast.
Eat Local Week's signature event, the Winter Harvest Festival, is a celebration of food, wine and farming featuring live music, fresh produce, tasting plates, cooking demonstrations and a tractor pulling competition.
Our Food & Wine Experience Package includes a Cooking Class with Terri at the Tamborine Cooking School if you like to stay on Tamborine Mountain for a night or two.
Artful De-Stress - Gaye Dell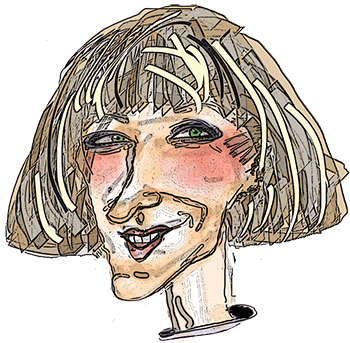 Call: +61 7 5545 3261
Mobile: 0400 090 985
Web: Gaye Dell Artist
Busy life? Soothe the stress with an afternoon of colouring-in using images created especially for you by local artist Gaye Dell and take home your very own artwork.
Get a few friends and design your own Christmas, birthday or special occasion card... whatever you choose, make it fun!
Gaye Dell did create and illustrate all our interactive maps and the drawings you see on them.
This series of interactive maps includes our Harvest Trail, Walk to a Waterfall, Theme Park Trail, One Easy Walk and many more to be released soon. The Maps are designed to inspire you and give you ideas of what there is to do in our beautiful region.
You find the full range of our interactive maps on our 'Fun Interactive Map Guides' Page on our website.
At Witches Falls Cottages we use the cute 'Chiefwizard Greeting Cards' which Gaye Dell especially created for us. Celebrating a special occasion and like to leave a personal message for your partner? Let us know when you make your booking with us and we include a card with your message with our compliments.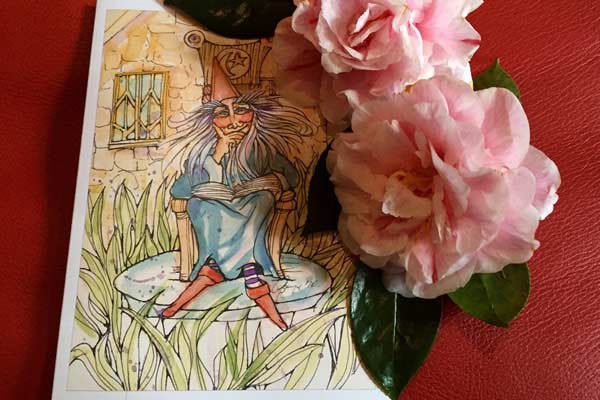 BlueDog Photography
Call: +61 7 5545 4777
Web: Bluedog Photography
Let dedicated professional photographers teach you how to take beautiful photographs. Blue Dog Photography offer hands-on courses for beginners and hobbyists through to the advanced.
Gallery Works - Richard Roper
Call: +61 7 5545 4590
Web: Gallery Works
Email: Richard Roper at Gallery Works
Artist Richard Roper's gallery and studio is open 11am - 4pm, Friday, Saturday and Sunday.
For just $20 (to cover ink and paper), Richard can show you how to make a unique take-home print on the etching press. Get a group together and do book first.
The painting below is an example of Richard Roper's artworks and it is on display in one of the Premium Cottages here at Witches Falls Cottages.
Witches Chase Cheese Factory
Call: +61 7 5545 2032
Web: Witches Chase Cheese Factory
Ever wondered how to make your own fresh cheese at home? These award-winning cheese makers can teach you everything you need to know.
The history of cheese predates recorded history.
There is no conclusive evidence indicating where cheese-making originated, either in Europe, Central Asia, the Middle East, or Sahara.
Cheese-making had spread within Europe and had become a sophisticated enterprise by the time ancient Rome came into being, when valued foreign cheeses were transported to Rome to satisfy the tastes of the social elite.
In hot climes like the Middle East a Hard salted cheese was the only form in which milk could be kept and preserved.
For Cheese produced in Europe, where climates are cooler, less salt is required for preservation. With less salt and acidity, the cheese became a suitable environment for useful microbes and molds, giving aged cheeses their pronounced and interesting flavors.
As Romanized populations encountered unfamiliar newly settled neighbors, bringing their own cheese-making traditions, their own flocks and their own unrelated words for cheese, cheeses in Europe diversified further, with various locales developing their own distinctive traditions and products.
Cheese-making in manor and monastery intensified local characteristics imparted by local bacterial flora; the identification of monks with cheese is perpetuated in modern marketing labels. This led to a large diversity of cheese types and variants.
Today Britain has 15 protected cheeses, France has 50 protected cheeses, Italy 46 and Spain 26, but this is only the hidden part of the iceberg: France alone has at least 1800 raw milk cheese products, and probably more than 2000 when including pasteurized cheese.
A French proverb holds there is a different French cheese for every day of the year, and Charles de Gaulle once asked "how can you govern a country in which there are 246 kinds of cheese?"
Many cheeses today were first recorded in the late Middle Ages or after — cheeses like Cheddar around 1500 CE, Parmesan in 1597, Gouda in 1697, and Camembert in 1791, but there is no way to judge what recognizable relation to modern products the cheeses made in those locations bore.
The first factory for the industrial production of cheese opened in Switzerland in 1815, but it was in the United States where large-scale production first found real success. Credit usually goes to Jesse Williams, a dairy farmer from Rome, New York, who in 1851 started making cheese in an assembly-line fashion using the milk from neighboring farms. Within decades hundreds of such dairy associations existed.
Factory-made cheese overtook traditional cheese making in the World War II era, and factories have been the source of most cheese in America and Europe ever since.
Mediaeval Illuminations
Call: +61 7 5545 4383
Mobile: 0432 913 130
Web: Tania Crossingham - Mediaeval Illuminations
Learn skills that are centuries old such as mediaeval drawing and painting techniques, know work, gold-leafing, calligraphy and much more.
Join a regular class or talk to Tania about a private lesson for groups of five or more.
Life Drawing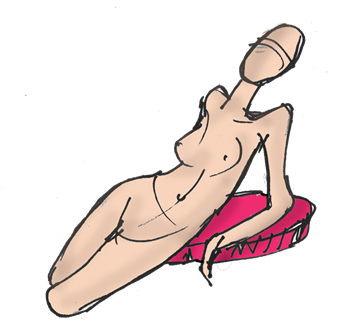 organized by Richard Roper at Gallery Works
The MOULDy (Mountain Life Drawers) group meet every Tuesday at the Tamborine Mountain Creative Arts Centre. Bring an easel and your drawing requirements.
Cost is just $15 per person to help cover the cost of the model. Organize with Richard first.
Michael Jones Ceramics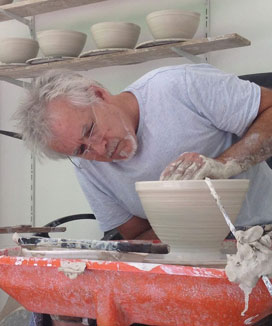 Mobile: 0412 135 111
If you ever felt the need to get your hands in that gooey clay then this could be for you!
Michael creates amazingly beautiful objects and runs courses for beginner, intermediate and advanced potters. Hand-building, wheel-throwing, glazing and decorating - learn it all at Michael's studio.
Below is a picture of the lovely tea pot Michael created for one of our packages here at Witches Falls Cottages.
Our 'Tranquility & Serenity' Special will be released soon and you can certainly add our 'Tea Lovers Basket' as an extra to your stay. The Basket includes your handcrafted Tea Pot and a selected Herbal Tea from Tamborine Mountain Tea. What a unique souvenir to take home to treasure and remember your stay with us at your Tamborine Mountain accommodation.
Bec Anderson - Textile Artist
Call: +61 7 5545 4383
Web: Bec Anderson - Textile Artist
Bec teaches rug-making and holds single and multiple day workshops and gatherings.
Bec's studio is nestled in the heart of North Tamborine, in a wood shed at the back of an historic mountain home. It is a space of focus and creativity for both her and her visitors alike and invites you to explore the overflow of beautiful textiles.
Rugs, Mats, Wool, Scarves and Rugmaking Supplies are for sale.
Attending a workshop you will learn how to design and make your own rug in a friendly and relaxed setting. Bec does have a bubbly personality and yes, she does talk a lot!
If you would like to join Bec for one of her workshops you find the dates for 2016 listed below:
Rug Making by Hand


When: May 20th & 21st, 2016
We begin on a small piece, such as a cushion or mat.
This workshop prepares you for making bigger and better rugs of your own.
Nalbinding
When: May 27th & 28th, 2016
Come learn this simple knotting technique to use up old sheets and leftover yardage.
Punchneedle
When: June 17th & 18th, 2016
Come learn this quick and easy method for producing woollen rugs by hand.
Last year I travelled to the USA to learn punch needle rug making and now it is time to share.
I call it rug making for the modern woman. It is simple, fast and addictive.
I know Punch needle rug making is simple because I recently completed an artist in residency at a local primary school teaching 11 year old children' this technique.
Basketry Day One and Day Two
When: July 22nd & 23rd, 2016
Join guest Tutor Therese Flynn-Clarke for one or two days of basket making.
Stitched basketry Techniques
Learn two stitched Basketry Techniques using plant fibres, threads and hand dyed wool. Simple stitched plant fibre baskets and wrap and coil techniques will be taught to create small, beautiful 'vessels' that are functional or original art pieces.
Open to beginners and experienced Artisans.
Random Weave Sculptural Basket Forms.
Learn the Basketry technique of Random Weave and create a sculptural basket form using natural plant fibres, recycled materials, cane and other 'weavable' materials. The finished piece could be sculptural or functional, but will definitely be unique!
Open to beginners and experienced Artisans.
Indigo
When: September 16th & 17th, 2016
In this workshop you will learn about one of the most fascinating of natural dyes, Indigo. This stunning blue dye is derived from the leaves of the indigofera tinctora plant. Participants will prepare a silk scarf using some shibori techniques, (tieing, sewing, and folding the cloth) to create a resist. When the scarf is dipped into the large vat, watch the dye change colour from green to blue as it oxidizes in the air.
Monoprinting
When: November 18th & 19th, 2016
Join experienced printmaker and paper artist, Sandra Pearce, in this free and expressive type of printmaking workshop.
We will use plants and man-made objects to create one-of-a-kind and often unexpected images.
The workshop is suitable for those without printmaking or art experience, or for more experienced artists needing a kick start to their creativity.
During the workshop Sandra will also be demonstrating the beauty of ghost prints as well as printing in layers with rich colour.
Sandra has a large resource of objects to use in the printing process.
In addition to the workshops above Bec Andersen offers regular gatherings at her Studio like:
The 'Rug Makers Day Out' - designed for those of you who have done one of the rug making workshops and need a kick start on a project.
Treat yourself to some creative time out to refresh your skills, ask questions, share some lunch, throw something into the dye pot and use the studio.
The'Happy Hookers' - if you have attended one of the rug making workshops and subscribe to Happy Hookers you will be invited to these monthly creative gatherings where you bring your own creative work for a morning of chitter chatter.
Please have a look on our Events Calendar for the full details and costs of each of the above workshops and gatherings.
Community Art Projects
Being very creative and involved in the community Bec Andersen contributes to many projects here on Tamborine Mountain and in the Scenic Rim Region.
Bec says: "I balance my time between the solitary work in my studio, and my public work as a community artist."
One of Bec Andersen's bigger projects was 'Yarnbombing Doughty Park'.
Doughty Park is the Picnic Area in front of the Visitor Information Centre here in North Tamborine.
What is Yarnboming?
Yarn bombing, yarnbombing, yarn storming, guerrilla knitting, kniffiti, urban knitting or graffiti knitting as it is also known, is a type of graffiti or street art that employs colourful displays of knitted or crocheted yarn or fibre rather than paint or chalk.
While other forms of graffiti may be expressive, decorative, territorial, socio-political commentary, advertising or vandalism, yarn bombing was initially almost exclusively about reclaiming and personalizing sterile or cold public places.
It has developed with groups graffiti knitting and crocheting worldwide, each with their own agendas and public graffiti knitting projects being run.
The practice is believed to have originated in the U.S. with Texas knitters trying to find a creative way to use their leftover and unfinished knitting projects, but it has since spread worldwide.
Watch the video to see Bec and the community of Tamborine Mountain involving themselves in the Yarnbombing of Doughty Park.
Stay at Amore B&B - a charming traditional Bed & Breakfast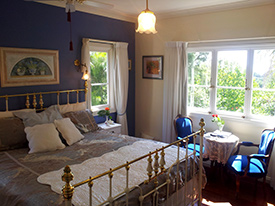 Located on Long Road, Gallery Walk Amore B&B is in a great central location to explore the shops and restaurants along Gallery Walk or have a beer at the Brewery while reflecting on your day of activities spent learning new skills.
Amore B&B offers a traditional bed & breakfast experience with 4 intimate and elegant rooms.
Please contact Kay & John at Amore B&B on 07 5545 2330 or visit the website if you would like any further information.
Stay at Witches Falls - luxury Cottages with double spas & fireplaces (seasonal)
Start your day with one of our scrumptious Breakfast Hampers delivered to your front door complete with our fresh homemade bread. Spoil yourself with our delicious Champagne Breakfast before joining one of the many artists on Tamborine Mountain for a workshop to learn new skills.
At Witches Falls Cottages we offer private accommodation for couples. Each of our cottages has a big double spa in the bathroom with that special outdoor feel created by a glass roof and glass sliding doors, a fireplace (seasonal) and a private outdoor area with a covered BBQ. We deliver your choice of Breakfast Hamper to your cottage each morning.
Please contact Witches Falls Cottages Team on 07 5545 4411 or visit our accommodation choices page if you would like any further information.