Relax, Rejuvenate & Reconnect...
Country Drive to Byron Bay - Map Guide
Explore & enjoy the famous Springbrook National Park & quaint country villages along your way...
With its lush rainforests, sun dappled bush walks, mesmerising waterfalls and diverse native wildlife, Tamborine Mountain is a place of unmatched natural beauty. Set in this beautiful landscape is our unique village community with its wineries, botanical gardens, art galleries and diverse restaurants and cafes.
You really do need a few days to enjoy everything our Mountain offers however. By extending your stay you'll also be able to explore our wider surroundings.

Go forth on a truly scenic self-drive adventure and explore the amazing scenery, lookouts, waterfalls and the villages dotting the country lanes that wind their way to the magical coastal region known worldwide simply as Byron.
The Map Guide below has been created as an interactive map (tap or click on the images on the map) showing the many different opportunities for a stop along your route to Byron Bay.

Whether you choose to spend some time in the beautiful National Parks at Springbrook/ Natural Bridge to feel the grandeur of nature, soak in the country village atmosphere of the towns along your way, enjoy the culinary delights and friendly country hospitality or just enjoy your drive along the countryside and head straight to Byron Bay... there is something for everyone. You will be guaranteed to have a great day exploring!

Before you head off please make sure to ask your friendly hosts at Witches Falls Cottages for a Street Map of the Region and save the Google Map on your mobile device for directions.
**** Byron Bay is where Witches Falls Cottages Team head to regularly if they get some time off! Find out why Byron holds special memories for your hosts...

--- just try clicking on any point of interest or number --- give it a go you might be surprised!

If you would like to view a non interactive version or to print out the map below as a PDF, please CLICK HERE.

Google Map and Directions
Staying at your Tamborine Mountain accommodation you may like to explore further and visit Byron Bay for a day trip.
In addition to the pdf of our 'Country Drive to Byron Bay' (pdf is available to print from our website or take a copy from your folder in your cottage) we recommend that you take a street map, which we also have available at Witches Falls Cottages, and download or print the Google Map for the Country Drive to Byron Bay.
Mount Tamborine
Start bright and early from your accommodation on Mount Tamborine and head towards Nerang. You will pass the Hang Glider's Lookout where Antone Bruinsma's stone sculpture Visiting Earth Angle is located.
Anton Bruinsma is one of the many local artists and his sculpture is part of the Scenic Rim Public Art Trail. The plaque on the sculpture reads as following:
"Gracing us with its presence, and calling for a renewal of our connection with nature, the Angel offers us hope, guidance and a moment for inner reflection"
From the Hang Gliders' Lookout you can enjoy stunning views across the valley to the Great Dividing Range.
When the breeze is from the West, para gliders and hang gliders take off from this spot to soar across the valley. Sit in the grass at the lookout and watch the pilots take off. Don't forget to look up as they often reach considerable heights and soar above the Mountain Plateau.
Have a look at our Tamborine Mountain Adventure Guide Map for more fun and adrenaline filled experiences like Helicopter Tours, High Ropes Course, Hot Air Ballooning and many more...
Hinze Dam
Hinze dam is approximately a 35 minute drive from Tamborine Mountain on your country drive to Byron Bay.
The recent construction upgrade has brought about many new exciting activities with places to explore and things to do including an interpretive center, a cafe with views, walking tracks, bike tracks, barbecue and picnic areas and much much more.
The peaceful surrounds and brilliant outlook (especially from the Cafe) make Hinze dam a great place to go to relax, refresh and rejuvenate.
Do not miss the interpretative center as it is interesting, informative and will make your visit to Hinze dam one to remember.
The walking/bike path along the dam wall includes interesting sign posted information about the dam construction and the local fauna, flora and marine life which make the Hinze dam precinct their home.
Watch the amazing aerial video of this beautiful body of water in the Gold Coast Hinterland; the Hinze Dam...
Springbrook's National Parks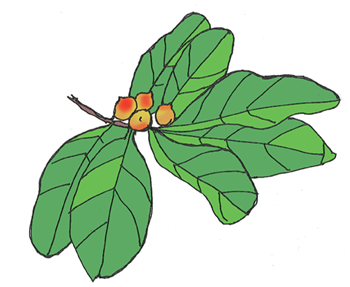 Springbrook National Park covers an area of 6,197 hectares (15,310 acres) which makes it the second largest national park in the Gold Coast hinterland.
In December 1994, Springbrook National Park became part of the Shield Volcano Group of the UNESCO World Heritage-listed Gondwana Rainforests of Australia.
Springbrook National Park lies in the McPherson Range which is a remnant of the huge shield volcano that dominated the region 23 million years ago.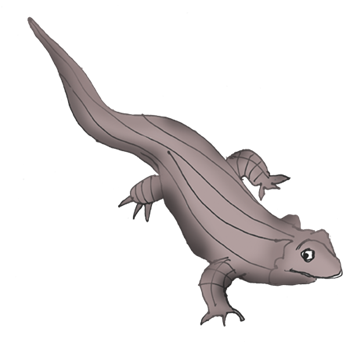 It has a Jurassic Park setting – made up of an ecosystem of lush subtropical warm and cool temperate rainforests and open eucalypt forests, where closed canopies high overhead protect an amazing array of endangered and protected flora and fauna.
At 900m, the national park can be up to 5°C cooler than the lowlands.
Springbrook National Park is divided into four sections: Springbrook Plateau, Mount Cougal to the south east and Natural Bridge and Numinbah to the west.
The national park showcases a world of strangler figs, vines, epiphytes, glow-in-the-dark mushrooms and worms, colourful wildlife and spectacular waterfalls, cascades and gorges.
The park is filled with wildlife including lace monitors, black skinks, carpet pythons, frogs, crayfish and eels.
More than 100 species of birds live in this park and visitors are most likely to hear, rather than see, the elusive and unique Albert's lyrebird who lives here.
Springbrook National Park is breathtakingly beautiful and with the many walking tracks you can certainly make a day trip out of it just by itself. Have a look at the Springbrook National Park Orientation and Walking Track Map for all the walking tracks and lookouts in the National Park.
Springbrook's National Parks cover a wide area but there are three must-dos.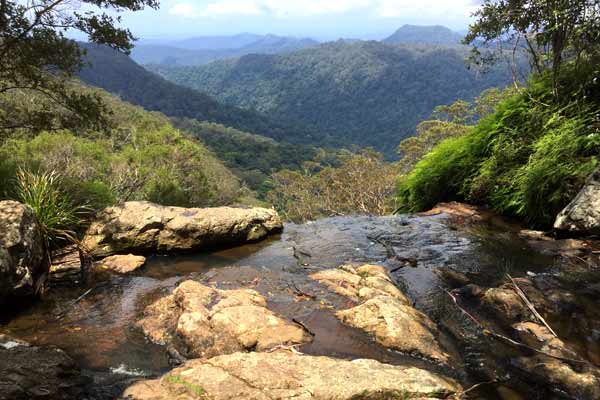 Canyon Gorge Walk: The wildlife that you'll see along this 1hr and 20 minute walk includes land mullets, lyrebirds and painted crayfish. The walking track leads behind two waterfalls and on to Twin Falls.
Purling Brook Falls: We suggest you go to the car park and walk to the lookout to see these majestic falls. In March 2015, the John Stacey Suspension Bridge across Little Nerang Creek gorge was opened. The bridge is part of an upgrade of the Purling Brook Falls walking track circuit, one of Queensland's most popular national park tracks. A new section of track has replaced a previous section that was subject to landslips.
Walk down to the bridge—about a 90 minute round trip—to enjoy a complete view of the spectacular Purling Brook waterfall. The bridge name honours the late John Stacey, a Springbrook builder who became a highly respected QPWS ranger known for his craftsmanship on building projects and his other contributions to management of the area's parks
The Best of all Lookout: This has stunning views, as the name implies, so don't forget your camera. Along this track (asphalt) you will pass the moss laden relics of the last ice age and the 2,000 year old Antarctic Beech trees. Very 'Lord of the Rings'. An amazing 30 minute walk and not to be missed when visiting Springbrook. This track is located at the top end of Repeater Station Road.
At Witches Falls Cottages we offer a private and fully guided 4WD Eco Tour to Springbrook and Natural Bridge with Southern Cross 4WD. Have a look at our Springbrook & Natural Bridge Package Page for more information, availability and rates.
Natural Bridge
The Springbrook National Park and picturesque Natural Bridge rock formation are easily accessible from the Nerang-Murwillumbah Road car park. On this short 1.5km subtropical circuit to Natural Bridge, expect to see Paradise Riflebirds, Green Catbirds, Wompoo Fruit-Doves as well as rare and threatened species like the Cascade Tree Frog, Tusked Frog, Sooty Owl and Koala.
Lookout for the stunningly blue coloured crayfish in the creek too.
Natural Bridge is part of the Springbrook National Park which is divided into the four sections: Springbrook Plateau, Mount Cougal to the south east and Natural Bridge and Numinbah to the west.
Have a look at the Springbrook National Park Orientation and Walking Track Map for all the walking tracks and lookouts in the National Park.
Murwillumbah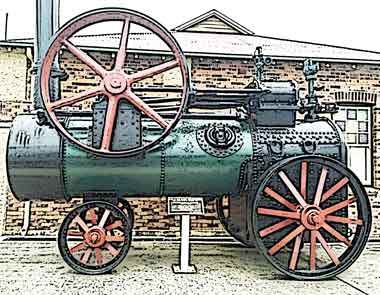 Steam Engine - Murwillumbah Museum
A visit to the recently upgraded Museum will give you a feel for this charming country town. Displayed in front of the Museum is an 1896 12 ton Robey Steam Engine which was reclaimed from Mt Nullum in 1996.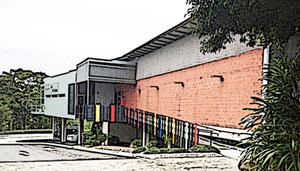 Tweed Valley Art Gallery - Murwillumbah
The Tweed Valley Art Gallery, found on the outskirts of town is a must do visit. The Gallery celebrates the career, life and legacy of Australia's most famous still life painter Margaret Olley and central to the Gallery is the actual, relocated home studio of this acclaimed artist.
Margaret Olley's Practice
'For Margaret Olley, painting was like breathing. It was part of her existence, part of every day of her life'
Margaret Olley is best known as a painter of still life and interior subjects, but during her career she also painted landscapes, portraits and self portraits.
As her good friend Christine France said, '...still life and interiors were the raison d'etre for establishing her studio and creating her unique environment in the old Hat Factory.'
Still life and interiors gave her the freedom she desired. There was no looming storm forcing her to complete a landscape, and no anxious model waiting for her to finish a portrait.
Margaret Olley often said, "It's my house and I can do as I like. I can move from room to room giving a side-wards glance at paintings on the go. I can sit and work things out, voyage within myself as it were."
(information on Margaret Olley above is part of the Tweed Regional Gallery & Margaret Olley Art Centre Brochure which you can purchase at the Centre for a small fee)
Murwillumbah is one of the most desirable places to live in Australia, based on natural beauty, welcoming locals and good infrastructure.
The picturesque town is located in the centre of the stunning Tweed Valley on the far north coast, just 15 minutes from pristine beaches, 75 minutes south of Tamborine Mountain, and 40 minutes north of Byron Bay.
Watched over by the awe inspiring majesty of Mt. Warning, and surrounded by 5 World Heritage National Parks - the Gondwana Rainforests*, the countryside around Murwillumbah is a blend of rolling hills and punctuated with hobby farms and small village communities.
The town itself has a lot to offer; From some of the best of Art Deco architecture to be found anywhere in the country to the award winning Tweed Valley Art Gallery. Murwillumbah has shopping for all manner of merchandise and dining options abound.
*Gondwana Rainforests
Gondwana was the ancient southern 'super-continent' that included Australasia, Africa and South America and was covered in temperate rain forest.
When Australia broke away from the Gondwanan continent the majority of these rain forests warmed and dried up.
Today, the Gondwana rainforest includes approximately 50 separate reserves and covers a large area straddling the Queensland / New South Wales border.
It is the world's most extensive sub-tropical rainforest and protected areas include Lamington, Springbrook, Mt Barney and Main Range National Parks. Together, these areas contain more frog, snake, bird and marsupial species than anywhere else in Australia and represent examples of major stages of the Earth's evolutionary history.
The national parks make it easy to explore all the richness captured in this world heritage site. More interesting facts about the Gondwana Rainforests:
• They cover 366,000 hectares, of which 59,000 are in Queensland.
• The area includes the oldest examples of the worlds ferns and conifers.
• Over 200 species of rare or threatened plant and animal species call Gondwana home.
Newrybar
Newrybar is located on the Pacific Highway south of Murwillumbah. The small town has a quiet country atmosphere with an award-winning restaurant, local merchant, art and craft shops.
The Harvest Cafe is outstanding - an old bakehouse with heaps of character and great food. Even if you are not famished, poke your head in the door for a look-see, you will be surprised.
The Restaurant is set in a charming, early 1900´s historic cottage with spacious wrap around veranda´s and is surrounded by the Harvest Gardens.
The beautiful 101 year old Harvest Bakery is a large open plan rustic building with plenty of character.
Harvest Cafe Restaurant serves lunch 7 days a week from 12 noon and bookings are essential.
In March 2012 your hosts at Witches Falls Cottages, Witches Falls Cottages Team got married on the Beach in Byron Bay and celebrated afterwards with family and friends at the old Harvest Bakery. The place holds special memories and Witches Falls Cottages Team return regularly to enjoy the delicious cuisine of the Harvest Cafe Restaurant.
The Harvest Deli gives both locals and tourists another great reason to visit the charming and historic village of Newrybar.
The lovingly restored vintage building sits beside the restaurant and is surrounded by lush raised organic vegetable gardens. Shelves are stocked with products gathered from the best local & international sources.
Deli hours are Mon-Sat 9-5 and Sunday 9-4.
The surrounding countryside of Newrybar is dotted with farms producing fruit, vegetables, macadamia nuts and coffee bean plantations.
It is a short drive from Newrybar to Byron Bay. Travel to Newrybar to buy a coffee, delicious deli items or have lunch and experience the buzz that the town inspires.
Bangalow
Bangalow a small historic town with a relaxed, casual and fresh modern style and quaint rustic charm.
A Federation style village with great restaurants, retail and antiques stores and 15 minutes to Byron Bay.
It is said that the name 'Bangalow' meant either 'a low hill' or a kind of palm tree in the language of the Banjalang Aboriginal people who lived in the area before European settlement in the 1840s.
Bangalow is at the centre of traditional dairy country, but sugar and, in more recent years, coffee production has added to the regional economy as has the influx of tourists.
Bangalow with its sophisticated charm, as the cafés, galleries, retail and antique establishments that dot the main street will attest is a must visit on your trip to Byron Bay.
One of the town's little gems is the walking track that meanders along the edge of Byron Creek. Within a few paces you're swallowed up in a forest of strangler vines and huge, mottled trees that shut out the sunshine. Water Monitors scuttle away from the path and into the brown creek alongside. A five-minute stroll will take you to a shady park with neat garden beds and arbours covered with riotous greenery; the perfect spot for a picnic.
To get a feel for this country town and it's people watch the videos below. They certainly will make you laugh...
(please disregard the news headlines which are displayed in the videos!)
Byron Bay
Byron Bay is where you'll finally dip your toes in the ocean.
This is the low-key, casual commercial heart of this coastal region and just as famous for dreadlocks and sarongs as it is for creative dining and luxury boutiques.
Visit the Cape Byron Lighthouse to see migrating whales, pods of dolphins playing in the surf and turtles swimming calmly by.
Standing on a bald rocky headland with a precipitous cliff on the east side, and a sheer drop of approximately 100 meters, Cape Byron Lighthouse is the most easterly light in Australia, and one of the most powerful.
From the lighthouse, walk to the most easterly point in Australia and then take a short drive to the famous Wategos Beach.
Byron Bay's natural credentials are impeccable. With its gorgeous beaches and lush green hinterland, this paradise casts a spell over everyone who goes there.
Humpback whales cruise past the headland, and hang-gliders ride the thermals above the Byron Bay lighthouse as you experience stunning views from Australia's most easterly point.
Today Byron Bay is a stylish must see destination with glorious beaches, and loads of style.
Whenever Witches Falls Cottages Team visit Byron Bay they will...
- enjoy a drink and a meal at The Balcony which is just meters from Byron Bays famous Main Beach and overlooks the bustling Lawson and Jonson streets. You could sit there for hours just soaking in the hippy come surf culture that Byron Bay is famous for.
- get takeaway Fish & Chips from Fishheads right at Main Beach, sit in the sand and just enjoy sand, sun and surf... and of course...
- visit the lighthouse
Enjoy your day!
Please allow us to share a very special, personal memory with you at your final destination of our Country Drive to Byron Bay...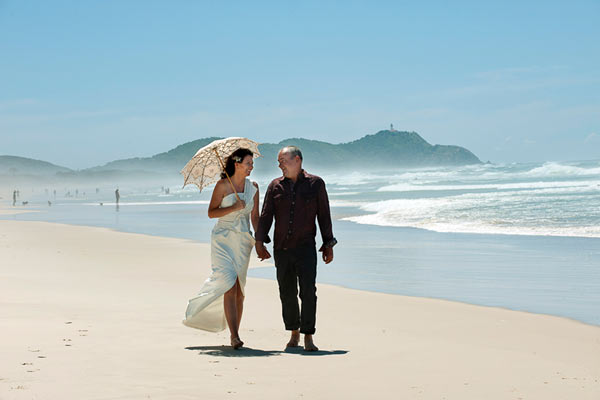 In March 2016 your hosts at Witches Falls Cottages, Witches Falls Cottages Team got married barefoot on the beach in Byron Bay. It was a beautiful and picturesque day for our wedding and you can see in the background of the image above the Lighthouse at Cape Byron.

When you head up to the Lighthouse and look out to the right you can see a long stretch of beach in front of you, that's Tallow Beach where the picture was taken.
Stay at Witches Falls Cottages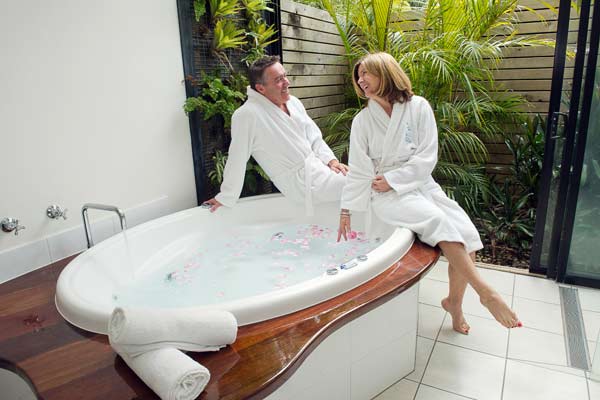 At Witches Falls Cottages we offer private accommodation for couples. Each of our cottages has a big double spa in the bathroom with that special outdoor feel created by a glass roof and glass sliding doors, a fireplace (seasonal) and a private outdoor area with a covered BBQ. We deliver your choice of Breakfast Hamper to your cottage each morning.
Please contact Witches Falls Cottages Team on 07 5545 4411 or visit our accommodation choices page if you would like any further information.
Stay at Amore Bed & Breakfast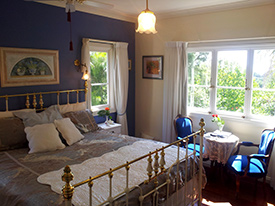 Amore B&B offers a traditional bed & breakfast experience with 4 intimate and elegant rooms.
Please contact Kay & John at Amore B&B on 07 5545 2330 or visit the website if you would like any further information.