Vegetarian and Vegan Food on Tamborine Mountain
Dine in or out – Our cottages offer a very unique and very special dining experience
These days, an increasing number of people are turning to a vegetarian or vegan diet for health, environmental or ethical reasons. They aren't a tiny vocal minority: recent statistics have shown that the number of Australians following a mostly or totally vegetarian diet rose from 2.1 million in 2014 to 2.5 million today, or 12.1% of the population.
An estimated 400,000-500,000 are vegan, meaning they do not consume any animal products (someone referring to themselves as "vegetarian" will also eat eggs and/or dairy). The number of vegan products is rising rapidly too; this year, 8.7% of new releases carry a "vegan" label, up from 3.2% in 2014.
For these reasons, many restaurants and cafes on Tamborine Mountain accommodate plant-based diets, including the five shown below. Even if you do eat meat, you may be tempted to try some vegetarian or vegan dishes yourself! Research has revealed a link between vegetarian diets and improved overall health, measured as lower mortality rates. This only stands if you have a healthy vegetarian diet, but with Tamborine's plant-based cuisine you won't be thinking about frozen pizza and chips!
Hickory
Vanessa Finnigan of Holistic Bliss Magazine recently came to Tamborine Mountain to review the area, staying at Witches Falls Cottages and choosing Hickory restaurant for dinner.
Their three main dishes are Trenchers – large platters served on a wooden board – one of them being the Vegesaurus Trencher.
Vanessa describes it as "one of the best vegetarian platters I have ever eaten … which included homemade falafel, pumpkin hummus, quinoa, beet and red onion feta, toasted macadamia nut salad and more". Her partner had the ribs platter, as the restaurant caters to both vegetarians and meat eaters.
TIP: Great range of cocktails. Try the classics while also experimenting with Hickory innovations.
Masala Shanti
Meaning "Spiced Heaven", Masala Shanti is an Indian restaurant just next to the southern end of Gallery Walk.
Indian cuisine is known for its wide variety of vegetarian dishes, as the country boasts the highest rate of vegetarianism in the world due to religious and cultural traditions; the diversity of edible plants likely contributes too.
In fact, half of Masala Shanti's main courses are vegetarian!
** Vegans may find it a little harder because many dishes do contain dairy, so it is best to ask.
Like: Today was our second lunch date at this amazing Indian restaurant…beautiful location, warm and friendly staff, and the food! Wow! The staff remembered us and our table, order and the fact that I'm vegan…almost one month after our first visit. Highly, highly recommend
Spice of Life Cafe Deli
Spice of Life is located in the centre of town, right on Main Street, in one of the mountain's oldest buildings.
Their contemporary, international breakfast and lunch menus feature a range of vegetarian options, with one vegan meal on each at the time of writing.
They also offer hot and cold vegetarian platters in their catering menus for events and functions.
As for their in-house deli, you can buy beautifully packaged sauces, dips, coffee and other items for gifts or souvenirs.
Take Note: At The Spice of Life we are passionate about exciting, quality food and exceptional customer service
Tamborine Mountain Coffee Plantation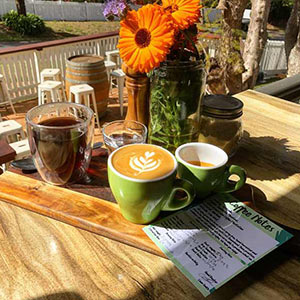 Coffee doesn't only grow in the mountains of Africa and Central America; did you know that Tamborine mountain also boasts its own coffee plantation?
Formerly Green Lane Coffee, Tamborine Mountain Coffee Plantation grows, roasts and blends all of their coffee on-site with their team.
Along with Witches Falls Cottages they are also part of Eat Local Scenic Rim, a collective that aims to support local farmers by purchasing their produce instead of buying from nationwide suppliers.
There is something for everyone here: small plates, larger meals and finger food; gluten-free, vegetarian and vegan meals. It's the same for seating, with indoor, outdoor and picnic areas.
Undecided? There is a little something for everyone who wants to have the Green Lane Coffee Plantation taste experience
Three Little Pigs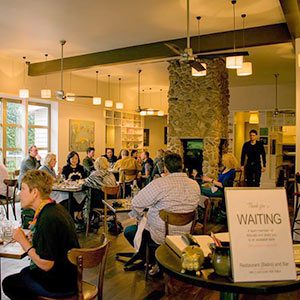 Three Little Pigs is a warm, friendly bar and bistro located on Main Street.
The warmth of a stone fireplace and outdoor wine barrel tables is combined with large windows and lush green surroundings to create a rustic yet modern style.
Their menu changes seasonally, but on the menu I received while writing this article, all of their pasta dishes for lunch and dinner are vegetarian.
Reviews on TripAdvisor not only describe an extensive wine list, but also large meals, so you may end up with leftovers too.
A little different: Refined bistro food and wine, served in simple, trendy digs with a stone fireplace and deck seating
As you can see, Tamborine Mountain is not short on vegetarian options, despite being a small town. Do you have a favourite vegetarian recipe, or dish to order when eating out? Let us know.
Click here if you would like to visit Tamborine Mountain and stay in one of our beautifully appointed private cottages so that you can experience this diverse and yummy dining experience for yourself. Or if you have any questions not answered just contact us via this page.