Relax, Rejuvenate & Reconnect...
One Easy Walk - Map Guide
A little bit of everything - allow about an hour and a half...

The 'One Easy Walk' is a self-guided walk for you to enjoy while you stay at your Tamborine Mountain accommodation. Think of it as a very easy way to find lots and lots of interesting things to do without the stress.

Following our Map Guide, initially you will meander through Palm Grove Rainforest, then experience a stroll through the Olde Eagle Heights residential community with its quaint English village atmosphere and views to the ocean and finally down Gallery Walk, past Jasmin Organics and the Nursery before completing the loop and returning to your car.

This is an amazing feature-packed walk. Everyone will be sure to find something to do and interest them. There are 2 x sections of National Park, an Olde English village with Heritage Centre and Creative Arts Centre, a sculpture park, the famous Gallery Walk Shopping Precinct with all kinds of shops, cafes and restaurants, the Jasmin Aromatique Organic Skincare gardens and shop, a wonderful Tamborine Mountain Plant Nursery, The Olde Church restaurant and gardens, a Brewery with beer tasting & great food and the tantalising Cheese Factory.

Wow, you will not be bored that is for sure! But beware even with the exercise of a good walk you may return a few kilos heavier with good food, coffee, beer and wine inside you and dripping with shopping bags of all kinds.

If you are staying on Tamborine Mountain for a few days (highly recommended) then you may find yourself doing this 'One Easy Walk' over a few days so that you can spend more time at each stop along the way. You will find it hard to resist the many temptations put in your way as you casually stroll along following our Map Guide and maybe making little diversions to your favourite cafe, fudge shop, gift shop ....

For even more ideas on things to do on and around Tamborine Mountain visit our 'Fun Interactive Map Guides' Page or our 'Things To Do' Page

The Map Guide below has been created as an interactive map showing a great variety of different things to do on route.
You choose if you spend more time exploring the flora and fauna in the National Park, take a longer stroll through the Olde Eagle Heights precinct to soak in the village atmosphere and enjoy the views, or indulge in some retail shopping therapy along Gallery Walk.

**** This self-guided walk is one of our guests favourite things to do!

--- just try clicking on any point of interest or number --- give it a go you might be surprised!

If you would like to view a non interactive version or to print out the map below as a PDF, please CLICK HERE.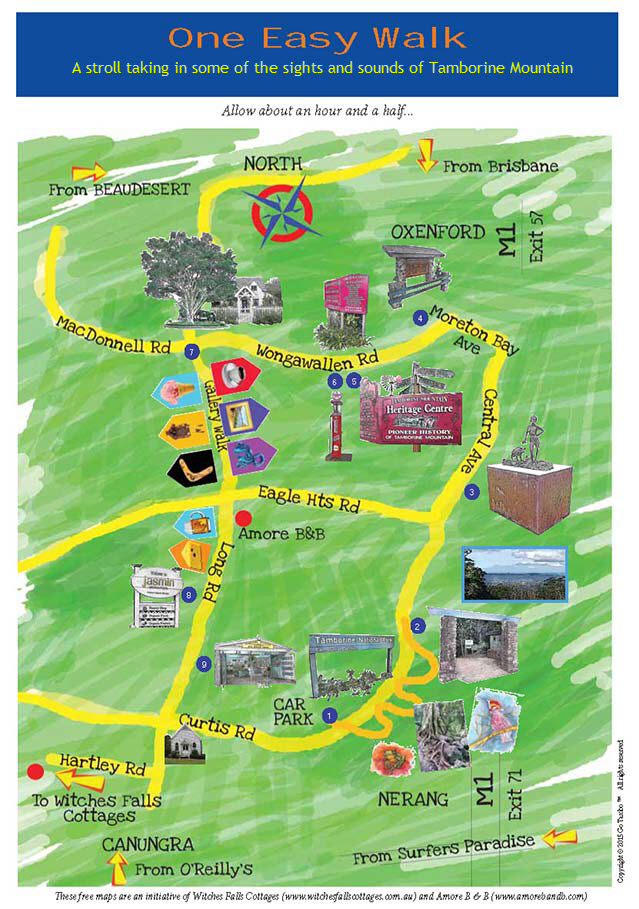 Google Map and Directions
If staying at Witches Falls Cottages it is just a short drive of a couple of minutes to the end of Curtis Road from where you start your walk.
If staying at Amore B&B the walking trail starts right at the doorstep of your Tamborine Mountain accommodation.
No matter if a traditional Bed & Breakfast or a Private Cottage is your chosen style of accommodation - your hosts will be more than happy to assist with recommendations.
You can find the entry to the walk or any points of interest along the way listed on our Google Map for the One Easy Walk.
Enter Palm Grove - End of Curtis Rd
Delicate ferns, towering trees and an array of wildlife abound. This walk is home to pademelons, brush turkeys, the rare Albert's lyrebird, land mullets and dainty yellow robins.
A shady humid world exists beneath the closed canopy.
Look out for the pademelons. The small to medium size marsupial inhabits Palm Grove National Park.
The pademelon is closely related to the wallaby and the kangaroo. It is a solitary nocturnal animal so it spends the day time hours resting and goes foraging for food under the cooler cover of night. Its diet consists most of leaves, grasses, shoots, berries and herbs which it sources adequately in its rainforest environment.
These little guys are very shy but are so so cute.
The park protects remnants of Tamborine Mountain's plant communities and includes areas of rainforest with distinctive piccabeen palm groves, wet eucalypt forest dominated by tall flooded gums, open forest with bracken fern understorey and woodland.
These plant communities provide essential wildlife habitat in a landscape almost entirely surrounded by urban and rural development. After approximately 1.2km, you will emerge on Palm Grove Avenue feeling invigorated and refreshed.
Exit the national park - Palm Grove Ave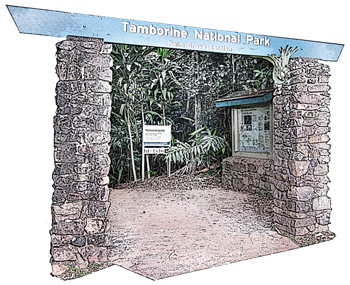 As you are about to leave the coolness of the rainforest, look for the distinctively buttressed yellow carabeen trees and the soaring strangler figs.
Then, on Palm Grove Avenue, enjoy a wonderful photo opportunity as you take in panoramic views of the ocean and the Gold Coast and if you look left or look right you will see interesting architectural creations with some built by and for notable identities.
There is a Picnic Area with a couple of Picnic Tables just as you exit the National Park from which you can also enjoy the views to the Gold Coast. It is a popular spot for early risers to watch the sunrise over the silhouettes of Surfers Paradise.
You are now entering the Olde Eagle Heights residential precinct with its interesting architecture, abundance of olde world charm, cottage gardens and an area steeped in history.
Click on the next post showing the views to the Gold Coast, just before post number 3, to read more about the History of Olde Eagle Heights and the Houses in this precinct.
The Olde Eagle Heights region is a striking destination, a special blend of heritage, natural beauty and creativity.
Admired by countless artists and visitors over many years there is a lot to love about Olde Eagle Heights.
Once you get to Central Avenue you can then take a detour via Cliff Way to enjoy the view to the beaches of the Gold Coast.
One of our early tourist destinations was the Eagle Heights Hotel in Cliff Way visited by the most famous pop group of all times THE BEATLES in June of 1964. It was unfortunately ravaged by fire in November of that same year.
You find more information and a photograph of the original Hotel on the next post (click on the picture on the map showing the view to the Gold Coast, you find it situated between post number 2 and 3).
The former Hotel is now operated by renowned soprano Tania Edmunds and her gifted husband Howard as Eagles Nest.
Brilliant operatic and dinner performances are scheduled at the venue throughout the year. Bookings are essential. Guests who have been to the dinner performances have given rave reviews.
Onto Central Ave
Onto Central Avenue for a stroll through Olde Eagle Heights, a residential area originally designed to replicate a quaint English village with open space areas, village greens, narrow lanes and dripping with personality.
Along Central Avenue, wander in and admire the Jacques van der Merwe sculpture garden. A collection of bronze sculptures, which explore the human condition and the personal relationship between the species. Jacques van der Merwe makes artwork in bronze, resin, ink on paper and oil on canvas (Number 9 Central Avenue).
Watch the video below to see Jacques at work...
MacDonald National Park - Wongawallen Rd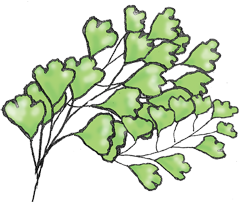 Located off Wongawallen Road this sun-dappled 1.4km easy walking circuit is a bird watchers' paradise that features large strangler figs, piccabeen palm groves and tall trees bedecked with vines and ferns.
This relatively flat track is ideal for visitors seeking a quiet rainforest walk away from road noise and large numbers of people.
The track starts from the car park on Wongawallen Road, off the Tamborine-Oxenford Road. A small shelter shed and picnic tables are provided at the park entrance.
This precious tract of subtropical rainforest was named after Miss Jessie MacDonald, who generously donated part of this area to become a national park in 1933.
Heritage Centre - Wongawallen Rd
A small historic pioneer village where you can catch a glimpse into the lives of the early settlers.
Featuring buildings from the local area, the Tamborine Mountain Heritage Centre contains interesting displays which depict the history of Tamborine Mountain.
Tamborine Mountain was inhabited by Aborigines for tens of thousands of years and was the territory of the Wangerriburra family group. Until it was opened for selection in 1875 it was covered with subtropical rainforest. In that year, the first white settler, John O'Callaghan, selected a parcel of land on the Mountain. The history of both Aboriginal and White settlement is on display.
Exhibitions of pioneer clothing and equipment give you an insight into the resilience and dedication of the early settlers to the region.
Visit the slab cottage, the blacksmith's shop, the general store, dairy and barber shop to get a feel for everyday life in the early 1900s.
The centre also features a scale model of an outdoor water wheel. The Mountain's first church is here, as well as extensive displays of fashion from the early 1900s.
The village is open on Sundays between 11am – 3pm.
It can be viewed from the car park at any time and is a great photo opportunity.
Creative Arts - Wongawallen Rd
The Tamborine Mountain Creative Arts Studio is a community potting, painting and patch working studio utilised by creative members of the local community.
The studio which has emerged as a friendly, relaxed meeting place for residents to meet and share knowledge about their different arts and craft. There is a communal kiln as many members of the studio community are keen potters.
The Tamborine Mountain Creative Arts has been in existence since 1978 in one form or another. It's a communal space for people who wish to share their creativity for arts and crafts of diverse persuasions. There are now three buildings on site and the facility is well used by potters, painters, patch workers and also by the local bridge, toastmaster group and other creative groups.
Learn about many different arts and craft s including pottery, folk art, wood carving, sewing, painting, quilting, drawing and more. Visitors are always welcome. (Enquiries 5545 3221)
The MOULDy (MOUntain Life Drawers) group meet every Tuesday at the Creative Arts Centre and is one of the many workshop options we have listed on our 'Unlock the Talent and have fun!' map guide.
Gallery Walk - Long Rd
Gallery Walk then: – The busiest road on Tamborine Mountain was once but a narrow unsealed country lane with farms on either side.
The Wick's family home and packing shed was on the eastern side. Mr. Wicks was an orange grower and sent his produce to the Brisbane markets.
The Wicks' farm was later acquired by Frank Sharp who pioneered the Avocado industry on the mountain. The Tamborine Winery facility now sits on this site.
The Pines on the opposite side of the road was built for Jim Wilson who collaborated with Frank Sharp to propagate the Avocado variety which we know today as the Sharwill.
The northern roundabout was known as Crawfords Corner (now known as "Fig Tree Roundabout"). You will see the memorial plaque adjacent to the house that the Crawford's built in 1926 which they named" Ashgrove".
The Fig tree in the centre of the roundabout was planted by Mr. Crawford and still stands today. The building was for many years an Antique shop and today is owned by Tanya and Henning Bregnsdale.
Gallery Walk today: - Is a cluster of Cafes, Restaurants, Collectable Shops, Art Galleries, Glass Works, Ceramics, Jewellery, Fudge, Chocolates, Gourmet teas/coffee beans, Cellar door outlets, Bric-a- brac, Fashion and pre-loved Vintage and Kitsch and the Enchanting Fairy Shop for fairytale fun.
Some of the old buildings remain. Other interesting buildings like the original Beenleigh Post Office was relocated to Gallery Walk and is now a Cafe and confectionary outlet.
Many of the older buildings however have been replaced with newer structures as unfortunately they had passed their use by date so far as modern retailing is concerned.
Enjoy the short video...
Jasmin Aromatique Organic Skincare - Long Rd
Lihua Song lives and works on Mount Tamborine. Her organically crafted skincare and beauty products – Jasmin Organics – have received global acclaim and proved popular with the lucrative Chinese market. Lihua's vision has been to create the world's best and healthiest skincare brand.
The Sunday Mail printed an interview with Lihua Song. Click on this link to read the full interview with Lihua Song
Factory Tour: Gordon or one of his knowledgeable and friendly staff will take you on a guided tour of the manufacturing area.
Organic Farm: Nestled deep in the heart of Mount Tamborine's spectacular rain forests, Jasmin Organics established a home to bring their vision to life: to create the world's purest and highest-quality certified organic skincare range. You are welcome to stroll throughout the extensive gardens, lavender beds and fruit orchid.
Retail Shop: Sample the luxurious skin care range. Years of research into the benefits of organic skincare became a reality in 2002 when a full natural range was developed, closely followed by organic certification and the expansion of Jasmin Organics to become one of the world's select certified organic farms and manufacturing facilities. Free from chemicals and hidden ingredients, all of their organic skincare products are formulated, manufactured and packaged on site at the organic farm. Jasmin Organics continues to strive to create the purest, highest-quality organic skincare in the world. This is made possible by a world-class team of botanists, aromatherapists, formulators and process specialists, all passionate to create a range that will delight you.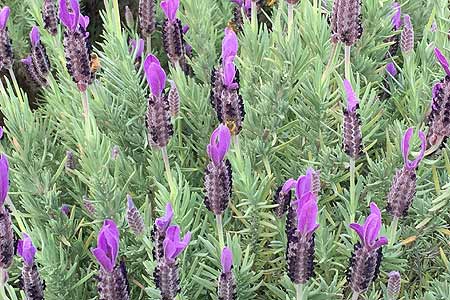 Lavender in bloom at Jasmin Organics
Lihua Song at her Organic Farm
Visit the Retail Shop at Jasmin Organics Skincare
At Witches Falls Cottages we include the 4 Piece Baby Essentials Travel Kit from the Jasmin Organic Skincare Koala range in our popular Babymoon Package.

The skin is the body's largest organ. Therefore Koala Baby skincare products are formulated using only the most natural and beneficial ingredients—well over 95% of them obtained from organically grown sources. Stringently selected for functionality, safety and efficacy, they are processed under strictly controlled conditions to ensure purity and preserve their bio—nutrients.

Jasmin Organics determination to use only the best and purest natural ingredients, and their attention to detail, may make the products a little more expensive, but surely feeling secure about your baby's health is worth the difference.
Tamborine Mountain Nursery - Long Rd
Take a walk around the beautiful flowering plants that Greg and Tracey have lovingly cultivated into a stunning collection.
Be sure to visit the orchid house that is chockablock with variety. Oh yes, and don't forget to check out their exquisite Japanese maples and their seasonal displays!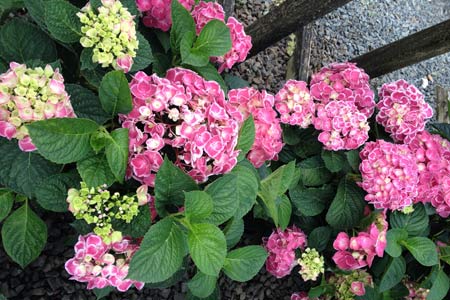 Beautiful Orchid at Tamborine Mountain Nursery
Visit the Orchid House at Tamborine Mountain Nursery
Explore the stunning selection of Hydrangeas at Tamborine Mountain Nursery
Spring – bursting into life is the breathtaking Cherry trees, superb Roses, perennial Cottage flowers, Azaleas, Rhododendrons, Prunus and the oh so glorious Wisterias.
Summer – cheerful, warm and bright with the blooms of Hydrangeas, Agapanthus, Clivias, Daylillies.
Autumn – showers you in gold and amber with the Maples and Liquidambers.
Winter – warms you with magnificent Magnolias, Camellias, and Viburnums.
Watch this short segment of Burke's Backyard to see what you can do with Australian Native Orchids
The Old Church
From Tamborine Mountain Nursery, turn left into Curtis Road to return to your car and enjoy one last photo opportunity as you pass the charming old church on the corner.
At the Old Church Restaurant Chef Andrew Quarantini serves fresh, delicious food.
The food and the atmosphere make the Old Church Restaurant one of the favourite places for us, David and Daniela to go out and enjoy a relaxed evening or to recommend to our guests who are looking for a special place to eat during their stay on Tamborine Mountain.
Chef Andrew Quarantini says: "After 22 years working and gaining experience in fine dining restaurants and with other chefs, my focus is now sourcing the best and freshest produce, working with flavours to create a beautiful meal, delicious desserts and tempting appetisers".
Delicious Food at The Old Church Restaurant
The Old Church Restaurant on Mt Tamborine
Monique Quarantini's artwork
It is a family affair at the Old Church which also does Weddings, Functions and Catering.
During the cooler winter months the fire in the great huge open fireplace is kept well stocked by Frank, Andrew's father. The comfortable lounge chairs in front of the fireplace are a popular spot for guests to enjoy a pre-dinner drink or a liqueur after a divine meal.
Andrew's wife Monique is a talented Artist and if she is not decorating the Church or the Restaurant she creates beautiful pottery which you can see on display near the Bar at the Old Church Restaurant.
Stay at Amore B&B - charming accommodation at a central location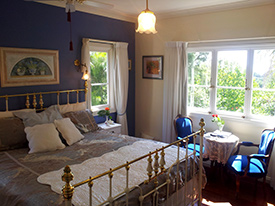 You can start the Olde Eagle Heights Walk at the front door of your Tamborine Mountain accommodation at Amore B&B.
Initially you will meander through Palm Grove Rainforest, then experience a stroll through the Olde Eagle Heights residential community with its quaint English village atmosphere and views to the ocean and finally down Gallery Walk for a browse before you return to your accommodation at Amore B&B on Tamborine Mountain.
Brilliant morning walk and you could finish it off with brunch at one of the many Gallery Walk cafes.
Amore B&B offers a traditional bed & breakfast experience with 4 intimate and elegant rooms.
Please contact Kay & John at Amore B&B on 07 5545 2330 or visit the website if you would like any further information.
Stay at Witches Falls Cottages - private cottages for couples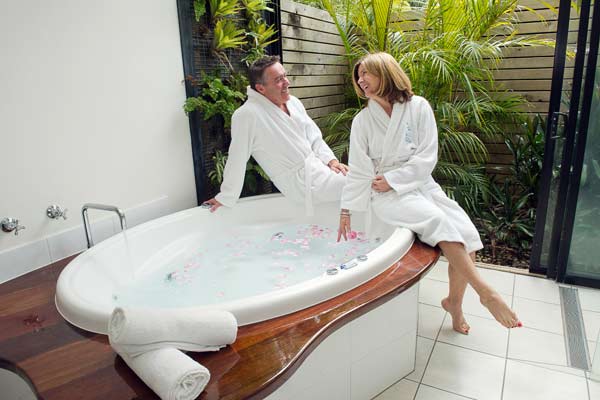 From your cottage the Car Park and entry to Palm Grove National Park is a short drive of a couple of minutes.
From Witches Falls Cottages turn right into Hartley Road. After 1.2 kilometer you turn left into Long Road. Continue on Long Road until after 1.1 kilometer you pass The Old Church Restaurant on your right and turn right into Curtis Road. At the end of Curtis Road you find parking on the left as you enter the large turning circle.
At Witches Falls Cottages we offer private accommodation for couples. Each of our cottages has a big double spa in the bathroom with that special outdoor feel created by a glass roof and glass sliding doors, a fireplace (seasonal) and a private outdoor area with a covered BBQ. We deliver your choice of Breakfast Hamper to your cottage each morning.
Please contact Witches Falls Cottages Team on 07 5545 4411 or visit our accommodation choices page if you would like any further information.
Palm Grove National Park - History and Facts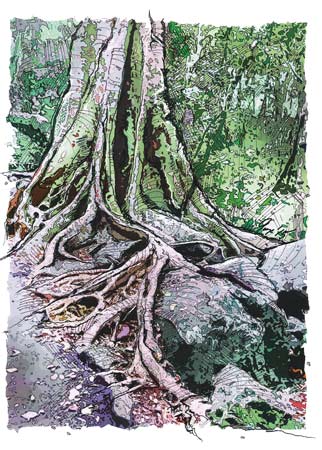 On the western side of Tamborine Mountain village is the Palm Grove section of the park.
The Palm Grove National Park and properties in Palm Grove Avenue were originally part of a selection taken up by Sydney Curtis during the early settlement on Tamborine Mountain in 1877.
After a couple more owners about 150 acres were purchased by Harold Jenyns senior in 1921.
The Jenyns family was well known around the early 1900s in Brisbane, Harold's mother being a successful business woman and founder of the Jenyns Patent Corset Pty with well-remembered factories in George Street, South Brisbane and Ipswich.
The family moved to Tamborine Mountain and later a part of their property became the Palm Grove National Park.
Walking the Curtis Road Track (1.2 km one way) which links Curtis Road and Palm Grove Avenue you will cross Jenyns Creek and if you have a bit more time you may want to walk around Jenyns Circuit to Jenyns Falls.
The Palm Grove section is named after the piccabeen palmArchontophoenix cunninghamiana that grows abundantly here. These palms have aerial roots that are exposed above the soil surface. This unusual feature allows them to absorb oxygen despite the waterlogged soils of this area.
(the above information is partly taken from the book 'Mountain Memories – Tales of the Past from Tamborine Mountain which as published by the Tamborine Mountain Historical Society by P.L. Lyons)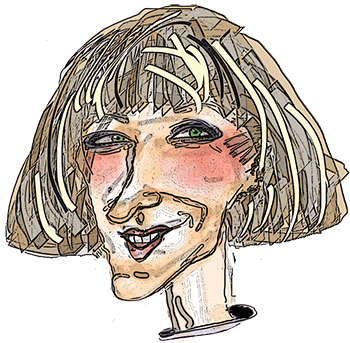 ** The illustrations for this post as well as the maps themselves are created by local Artist Gaye Dell. If you like her drawings you can purchase them in form of Greeting Cards at several outlets on the Mountain including the Post Office at North Tamborine or the Doughty Park Visitor Information Centre.
Olde Eagle Heights
Olde Eagle Heights owes its being to an English gentleman and scholar named Theodore Witherby.
He arrived in 1916. In 1920 Witherby bought the Day/ Kidd farm.
As a town planner he excelled as he laid out his dream English village which he named Eagle Heights. The area was subdivided with residential and business precincts, narrow lanes, and open green spaces equated to a village green.
Some interesting buildings on your walk.
The original Eagle Heights Hotel: A two-storey, Tudor design building, the hotel burnt down in September 1964 was built by Witherby. The only sections of the structure that were saved were the servant's quarters and the garages at the front - they are still there today. With a series of extensions it is now the site of a restaurant, a residence and an antique shop. Witherby was also the accredited designer for a number of properties erected in the then new Eagle Heights subdivision.
Villa Margaret: Mountain legend has it that Villa Margaret was designed by famous American architect Walter Burley-Griffin; her thick stone walls tell a thousand tales. During World War II, this 1930's art-deco mountain-side retreat was the weekend escape for General Douglas MacArthur and most notably the house was the private weekend residence of much-revered Queensland Archbishop Sir James Duhig.
Decades later, Villa Margaret became the contemplative retreat for the Sisters of the Cannossan. It is now a private residence.
"The Shingles" in Witherby Crescent which stands today. Built by T.C.Witherby the originator of Eagle Heights village. Various early photos of T.C. Witherby and of his residence are held at the Historical Society Museum which you will come to on this walk. It is now a private residence.
The First Church: The Mountains first church was opened in 1926. The Presbyterian Church was moved in 1982 to Wongawallen Road to become the Historical Society's Museum.
"Semloh Guesthouse": It still stands on the corner of Southport Avenue and Driscoll Lane. Built by Mr. Holmes "Semloh"(his name spelt backwards).
It became the Marist Brothers School in the 1940's and later a guesthouse and again later a monastery for an order of Polish monks. The fibro building adjacent was originally the school dining room with two classrooms beneath.
Later the upper level was converted into a Chapel. It is now used as an antique auction venue, the church having moved to a brand new facility in Beacon Road. A concrete based tennis court was built alongside the Chapel and the base is still visible today.
"Eaglemont": Located in Eagle Heights Road it was owned by Mrs.Tibby Mullens who also ran the local bus company. It is a guesthouse today although much refurbished.
"The Poplars": It was built by Miss Jessie MacDonald who owned the adjacent Rainforest which she donated to National Parks. That Park now bears her name. It had been used as a guesthouse, a convalescent home, pottery retailing and a tea house. It is now a private home.
Images are courtesy of the State Library of Queensland.
The first image shows the Eagle Heights Hotel in 1945.
The second images shows the Jenyns Family. You may have read about the Jenyns Family on the post about the History of Palm Grove National Park.
Coffee Shops & Restaurants
Cafes specialising in quick and tasty indulgent foods for visitors wanting a satisfying fix whilst on the move as they explore the eclectic mix of shops that make up Gallery Walk. Or if you really want to be on the run maybe an Aussie Pie, Pizza, BLT, and a takeaway coffee.
Dining opportunities are not to be missed and visitors seeking to experience superb regional cuisine and a fine wine experience will not be disappointed.
How about fine dining with degustation options?
A seafood restaurant with a touch of the Mediterranean in its flavour combinations. A restaurant with groovy atmosphere and a diverse GF and organic menu. A family friendly bistro, generous helpings and a menu to satisfy all palates, or maybe modern Australian cuisine with indoor or outdoor dining and how about possibly the best Indian meal that you have ever tasted.
As Tamborine Mountain has grown so has Gallery Walk's range of cuisine from around the world. The recent openings are a clear sign to Tamborine foodies that this precinct's stock is on the rise.
Art Galleries & Collectables
Art is a very subjective and cultural expression. It informs and encourages us to express ideas in a variety of methods, mediums and styles. Some people purchase art to acknowledge an event, others do it to express emotions, others for personal reasons.
Gallery Walk has an array of Artists engaged in one or more of any of a broad spectrum of activities related to creating art, practicing the arts, and/or demonstrating an art. If you want to hang it, display it or wear it you may well find that little treasure here on Gallery Walk.
Glass art: Affordable glass gifts from fine Polish cut crystal to beautiful glass balloon. A vast selection of quality, colourful and eye catching home ware glass pieces suitable for any gift giving occasion. Fine glass pieces from established artists as well as an exciting range of hand blown dichroic glass vases and paper weights.
Fairy Art: One of the best ranges of fairywear in south-east Queensland, with gorgeous wings and headpieces made by artist in residence Jo Morgan. And for the boys a range of dragons, pirates, dinosaurs and other things boys like. An extensive range of wearable and decorative masks and fascinators, along with those accessories that are often hard to find.
Jewellery art: Handmade jewellery to meet your specific requirements. Visit a jewellery studio for new rings, remodelling or custom pieces.
Hanging art: Subjects range is as varied as the artist's imagination. Unique art works by local, interstate and international artists.
Fashion Retail Therapy
As well as browsing and eating delicious food, one of the popular things to do in Gallery Walk is to go hunting for those hard to find items and check out the local fashions. There's something for every kind of shopper, so let's get going on some retail therapy.
We look at fashion as today's popular style or practice in clothing, footwear and accessories.
Fashion is distinctive, individual and personal. It is the prevailing styles in behaviour and the newest creations by our gifted textile designers which influences the Gallery Walk fashion retailers.
The retailers need to conduct research on fashion trends and interpret them to meet your expectations. They attempt to stock clothes which are functional as well as aesthetically pleasing. They always take into account who is likely to wear a garment and the situations in which it will be worn.
They have a wide range of beautiful stock items with an expansive selection of materials, colours, patterns and styles for you to choose from. Though most clothing stocked is for everyday wear, unusual garments for special occasions are always available.
The Gallery Walk retailers work with their suppliers in a number of ways in designing and bringing today's fashion and brilliant accessories to the fashion marketplace. They don't just display clothing for sale they sell a fashion style which is distinctive and influential.
Sweet Seduction - Ice Cream, Fudge, Chocolates...
The mystique surrounding chocolate has become an art form. There is however no need to undertake a course to learn how to taste chocolate and appreciate its subtleties as that knowledge comes only with years of practice as all chocoholics will attest.
Gallery Walk is an opportunity to discover some of Queensland's best chocolate and fudge outlets and gain insight into their respective crafts. You can sample the chocolate and fudge at some of the venues that you may visit. You will know when you are close to a chocolate or fudge shop as the aroma wafting from the front door is an absolute give away.
Step back into yesterday year with lollies that you will remember from your childhood, liquorice allsorts, lollypops, etc, etc.
For lovers of ice cream there is a large array of different flavours and textures including a gourmet range and fresh fruit sorbets.
You may learn how chocolate and fudge are produced, the chemistry of chocolate flavours, the elements of chocolate and fudge tasting, textures available, chocolate dipping, fudge decorating and moulding and, if you are really lucky, how chocolate and fudge formula has evolved over the centuries.
The rule for storage of chocolate and fudge is:– sensitive to temperature and humidity – best consumed within 5 minutes of purchase.
Speciality Shops
Tea and Coffee on Gallery Walk
If you are looking for a shop specialising in high quality loose leaf tea you are sure to find it in Gallery Walk. With around 250 different teas it boasts one of the largest selection of teas in Australia. Want to experience a great variety of high quality black tea, green tea, white tea, oolong tea, pu-erh teas, herbal infusions and fruit tisane you have come to the right place.
Teas from around the world are yours to discover in Gallery Walk. Teas are organic and are sourced from fair trade plantations and Ethical Partnership plantations. If tea is not your style then a delicious range of gourmet coffee beans is available.
Cuckoo Clocks on Gallery Walk
Looking for a Cuckoo Clock, Grandfather Clock, Mantle Clock, Wall Clock, Weather House or a clock by any other name then you are in the right place if you are strolling down Gallery Walk. All Clocks are imported from Germany, so they are the "real thing!"
Gourmet Spices on Gallery Walk
First established in 2001 with the creation of three Dukkah blends.
Varieties now include the traditional Egyptian, Garlic & Parsley, Egyptian Special Blend, Australian Bush Spice, Chilli Mild or Hot, Macadamia & Hazelnut, Almond & Hazelnut and two culinary blends Almond & Hazelnut Combo and Piquant. Never tried Dukkah Blends? You like everyone else will be won over at first taste.
Craft Shops
Decorative and every day use articles that are made completely by hand or by using only simple tools are marketed through the craft shops situated in Gallery Walk. The term craft is applied to the traditional means of making goods and the individuality of the product is of paramount importance.
Craft is very much a collective term and applies to a wide range of creative and design activities that are related to making things with one's hands and skill, including work with textiles, pliable and rigid materials, paper, plant fibres, cloth etc. The shops stock products that are both practical, aesthetic and ready for immediate use.
Many of our crafters use natural, even entirely indigenous materials, while others may prefer modern, non-traditional materials and even recycled materials. A large selection of crafts are displayed such as rag dolls, bears, woodwork, cushions, wooden signs, hand bags, jewellery, pottery, shabby chic and gift cards.
Craft supplies are available from some outlets or you may wish to book a place in a workshop to unleash that creative talent that you always knew was there but needed an opportunity like this to manifest itself.
Meet the crafter when you visit as the person behind the counter knitting, sewing or crafting is likely to be that person who produced some of the product in the store. They are friendly and have a wealth of information about the craft scene -- If you have a question feel free to ask.
You may just find that little gem that you had been searching for in one of Gallery Walk's craft shops.
Brewery & Cellar Door Outlets
So you would like to be a brewer not just a consumer. What then do you need to know?
The basic ingredients of beer are water and a fermentable starch source such as malted barley. Most beer is fermented with a brewer's yeast and flavoured with hops.
Steps in the brewing process include malting, milling, mashing, Sparging, lautering, boiling, fermenting, conditioning, filtering, and packaging.
There are three main fermentation methods, warm, cool and spontaneous. Fermentation may take place in an open or closed fermenting vessel; a secondary fermentation may also occur in the cask or bottle.
There are several additional brewing methods, such as barrel aging, double dropping, and Yorkshire Square.
Now you know it is a precise, delicate task best left to those skilled in the craft, maybe you will agree it's best to remain a simple consumer.
Gallery Walk has a Brewery and a number of Cellar Door outlets.
There are a number of highly regarded and respected winery outlets located on Gallery Walk. They all adopt a fairly straight forward philosophy in the utilisation of traditional wine making practices to create wines of excellent quality.
From making the decision to remove the grapes from the vine at that exact right time through the process of crushing, pressing, clarification of juice, fermentation, maturation and blending, to that time line decision to bottle, the wine maker controls the dynamic process that is wine making.
We rely upon our wine makers to bring together the intensity of aromas and flavours, the complexity, balance, finesse, structure and mouthfeel that produces a quality wine. The local wine makers are passionate about wine and excel at their craft.
Cellar Doors are open daily from 10 am to 4 pm for wine tasting and sales.
At Witches Falls Cottages we offer our guests a 'Meet the Winemaker' Package which allows you get an insight into the art of wine making.
Cheese Factory
A cheesemaker is very much a skilled artisan who has developed the knowledge and skills required to convert milk into cheese, by controlling precisely the types and amounts of ingredients used, and the parameters of the cheese making process, to make specific types and qualities of cheese.
Most cheesemakers by virtue of their knowledge and experience are adept at making particular types of cheese. Sounds easy hey and it may only take 15 years or so of practice for it to get so easy!
Our local cheese factory produces small batches of high quality cheeses, ice cream and yoghurt using the freshest cow and goats milk from local farmers.
The cheese factory can guarantee the highest, creamiest quality in all their products.
The finest French cultures combined with traditional methods of manufacture and locally sourced milk produce Award winning cheeses!
There are many to choose from but here are some of our favourites:
Longmans Leicester - A cow's milk farmhouse English cheese with a deep red/orange interior. A rich, nutty, creamy texture finishing with a slight sharpness. A classic and hard to find cheese that pairs with any wine and looks great on any cheese board.
Tamembert (our version of Camembert) – A soft white bloomy rind cheese that has a luxurious, delicate flavour with a slight mushroomy aroma. The inside has a straw-like colour and a soft, bulgy texture which has a taste reminiscent of hazelnuts. Best enjoyed with some crusty country bread.
Misty Mountain Blue – Made from cows milk, penicillium roqueforti is added to the milk to give its unique blue/green marbling. A natural grey rind forms around the slightly sweet, tangy cheese that is creamy with a salty finish. A medium aroma cheese, best served with pear or apple slices or roasted walnuts.
Cow Milk Feta – Feta is a gift from the Greeks!! We make this tangy, salty cheese with jersey cows milk. They come in a round form with the following herbs added: Chilli & Garlic, Plain, Garlic & Chives. A versatile cheese that is great crumbled over a salad or accompanied by steamed veggies.
Triple Cream Brie – Won gold at Brisbane Cheese Awards 2012. Our signatory that has our cheese lovers coming back for more. A very rich, robust and full flavoured cheese that has a flowing texture and a full-on creamy flavour. As it matures it will develop a slight mottling on its snowy rind. This fairly rich cheese should be served with country bread.
Ever wondered how to make your own fresh cheese at home? The cheese making classes are just one of the many workshops we have listed on our 'Unlock the Talent and have fun! Map Guide.