Rainy Day Activities on Tamborine Mountain
Map Guides – We offer a range of free Map Guides to help you find your way around the mountain, just like a local
Tamborine Mountain has so many opportunities for outdoor activities, with our national parks and gardens, but what about when it's rainy? Or when it's cold and you'd prefer to only venture outside around midday? No matter the weather, there are plenty of fun and interesting activities on the mountain for all ages.
The Glow Worm Caves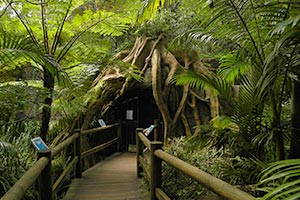 The Glow Worm Caves are not just the only place in Queensland that you can see glow worms during the day, but tours can be run regardless of weather conditions. (If it rains you will need rain jackets for the short three-minute rainforest walk up to the caves, which is conducted on a flat boardwalk at a leisurely pace.)
Glow worms are the larva (babies) of a tiny fly, and they give off their blue-green light to attract insects. I (Alexandra) have been to an "unofficial" glow worm cave (an abandoned railway tunnel known to the nearby campground), and I would describe it as like a living galaxy of tiny stars. This experience is suitable for all ages and fitness levels, as the pathway is totally flat.
Tamborine Mountain Distillery
There is no room for bland mass production on Tamborine Mountain, especially not at the distillery.
Tamborine Mountain Distillery is situated in a beautiful Elizabethan-style building, manufacturing boutique schnapps, liqueurs, Eaux-de-vie and more. The tasting room, where you can sample their award-winning range, is open to visitors, as is their distillery museum.
They also host cocktail and gin classes if you would like to learn how to make your own and impress your friends when you return home.
A trip to the distillery is included in The Vino Bus' public tours. Their full-day tours include guided tastings at four of the mountain's best wineries, plus the distillery with the option to visit the cheese factory and scenic lookouts!
Art Galleries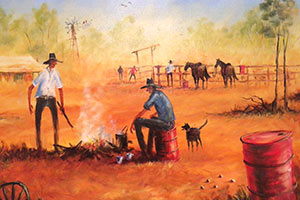 Tamborine Mountain has several art galleries with works unique to the mountain and the Scenic Rim.
One is the Arthur Hamblin art gallery at Cedar Creek Estate, featuring the work of Arthur Hamblin inspired by the Australian outback.
For a different perspective on the Australian landscape, this time steeped in ancient traditions, Tamborine Dreaming has a section dedicated to indigenous art.
Under The Greenwood Tree has a dedicated small gallery, new exhibitions open regularly, providing a venue for a range of Australian artists to display and share their work in intimate surroundings.
If you bring your sketch pad, you can unleash your new inspiration once you get back to your cottage, whether you are outlining your next painting or designing something more three-dimensional.
Pampering
What better excuse than a rainy day to book a massage or trip to the day spa?
Ripple Massage is a mobile service, and so can travel to your accommodation, including Witches Falls Cottages. They have a broad range of massage styles, from hot stone to pregnancy, and come complete with qualified therapists, professional tables, aromatherapy oils and music.
Getaway Day Spa offers a wide range of face and body treatments. After a sequence of the hydrotherapy spa, mineral bath, steam room and infrared sauna, you can choose your treatment or package with a glass of champagne.
See all of our many pampering packages HERE.
A Blind (or not) Date with a Book
If you're expecting cold weather during your stay on the mountain, why not choose our Blind Date with a Book package?
Simply fill out a questionnaire and our friends at Under the Greenwood Tree will pick out two books for you to become acquainted with while you're waiting for the day to get a little warmer.
In the case of a rainy day, you can head over anyway and have a look at their diverse range of books. Sometimes, getting warm and cosy by the fireplace with a good book is the best thing to do in wet or cold weather.
There you have it, rainy or cold weather doesn't have to ruin your stay on Tamborine Mountain; it may even lead you to try new experiences you otherwise wouldn't have thought of. When it rains do rain!
For more Things To See & Do on Tamborine Mountain, Click Here
For our Tamborine Mountain Events Calendar & What's On information, Click Here
Click here if you would like to visit Tamborine Mountain and stay in one of our beautifully appointed private cottages so that you can experience the mountain for yourself, wet, dry, hot or cold. Or if you have any questions not answered just contact us via this page.