Mapping Out Your Time on Tamborine Mountain
Sometimes when arriving at a holiday destination you can get overwhelmed with what to do and how to best take advantage of what the region has to offer.
If you were unfamiliar with your holiday destination, it would make the planning process a little difficult.
However, if you were able to locate and map out places to visit in advance it would ease any pressure, allowing you to make the most of your time away.
Fortunately, there's a series of highly informative, Interactive Map Guides to Tamborine Mountain that can easily assist in carefully planning your day trips depending on what you want to get out of them.
Illustrated in an easily digestible format that is packed full of useful information, (including some local knowledge and other helpful 'tit-bits') these maps are an invaluable resource in ensuring you completely capitalise on your relaxing stay on Tamborine Mountain.
Whether it's a walk in the rainforest that visits lush waterfalls and beautiful waterholes, a feature-packed walk taking you through idyllic gardens and quaint English-style villages, or one tailored toward fulfilling your creative urges, there are a variety of day trips catered to all types of travellers that you could take on Tamborine Mountain.
Take it Easy – One Easy Walk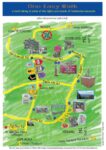 Sometimes simply 'breathing in' a new environment by taking it all in your stride is the best way. One Easy Walk allows you to experience a little bit of everything that Tamborine Mountain has to offer.
Encapsulating 'must-see' historical sites like Palm Grove National Park, along with some 'must-do' gift, art and sweetie shop stopovers at legendary Gallery Walk, not to mention the Heritage Centre on Wongawallen Road and plenty of characterful restaurants, cafes and beer tasting breweries in-between, this self-guided walk is sure to satisfy.
View the interactive map or print off as a useful PDF
Take an Hour – Walk to a Waterfall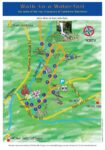 This exuberant self-guided 60-90-minute walk, (that is suitable for all fitness levels) allows you to fully appreciate the picturesque wonders of Tamborine Mountain's Joalah National Park, before arriving to observe the splendour that is Curtis Falls.
The interactive map encourages you to stop and observe 20 carefully posted sites that provide intriguing detail to the surrounding flora and fauna along the way. It's a 'must do' for any nature enthusiast or budding (or bonafide) horticulturalist.
View the interactive map or print off as a useful PDF
Take a Harvest Trail – Explore Farm Gate Produce
Get down to earth with this harvest trail where you'll be able to fully appreciate the organic freshness of Tamborine Mountain's finest farm gate produce. We've selected nine of our favourite Farm Gates Stalls, dotted around within walking distance of Witches Falls Cottages. Whether it's fruit and vegetables, flowers, or herbs and spices…there's an abundance of choice on offer.
Start off at the Small Avocado Stall on MacDonnell Road and slowly work your way down to pick up everything from rhubarb (in season between May-December), tomatoes, fresh flowers (including the best selection of dahlia on the mountain!) to an abundance of other organic fruit and veg from our friendly, oh so knowledgeable farmers. They'll be only too happy to share some of their pride and passion with you. So, take the Harvest Trail to taste the difference.
View the interactive map or print off as a useful PDF
Take on some Talent – Experience the Creative Hub
Equally passionate is our local hub of artistic talents, who have let Tamborine Mountain inspire them to create some truly astounding works of art. They are also more than happy to share their creative knowledge through regularly run workshops, (or more personalised classes).
Whether it's Artful De-stress colouring-in sessions with a local artist, getting your hands gooey with some creative ceramics, having a go with life drawing, rug-making textiles, or an array of other creative workshops, the mind-nurturing opportunities are open to one and all. Take the talent trail to inspire yourself!
View the interactive map or print off as a useful PDF
You may also like to try some of these alternative guides and trails that encapsulate adventure and explore the wider region:
So, why not use these informative, interactive maps to plan your day trips at Tamborine Mountain and make the most of your time here.
If you are planning on coming up to the mountain for a relaxing few days then why not consider staying in one of our beautifully appointed private cottages so that you can experience for yourself all that the mountain has to offer.
To check available dates and book Click here
If you have any questions at all just contact us via this page.